You are here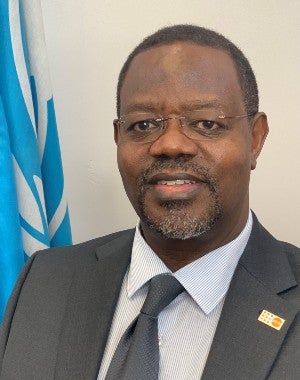 Dr. Bannet Ndyanabangi
Dr.  Bannet Ndyanabangi has a wealth of experience garnered in various development and humanitarian settings. His career as a medical doctor began at the Bernhard Nocht Hospital of Tropical Medicine in Hamburg, Germany, in 1988. Between 1990 and 2003, he worked in his home country, Uganda, as a clinician and public health programme manager before serving as HIV & AIDS Programme Regional Coordinator for the East, Central and Southern African Health Community (ECSA-HC) in Arusha, Tanzania. He moved to USAID in 2004 and worked on programmes implemented by Management Sciences for Health (MSH) in Arlington, Virginia in the USA.
In 2009, he joined UNFPA where he has served in various capacities, including as Deputy Representative in Nigeria and South Sudan,  as Representative in Sierra Leone, Afghanistan and Liberia and as Regional Director a.i for East and Southern Africa.
Dr. Ndyanabangi completed a degree in medicine at the University of Heidelberg, Germany. He also holds a Diploma in Medical Specialties from the Institute of Tropical Medicine, a Certificate in Administrative/Managerial Science from the University of Stellenbosch Business School, a Master's Degree in Community Health and Health Management, and a PhD in Public Health.