The United National Population Fund (UNFPA) in South Africa, hosted an engaging satellite session "South Africa: Harnessing the Demographic Dividend" during the Youth Conference on 10 June 2017 in Durban. The satellite session provided an opportunity for policy makers, civil society, youth and other stakeholders to consider the practical ways of optimising on the youth bulge and the necessary investments needed to reap the demographic dividend, including through access to health care, quality education, employment opportunities and business opportunities for young people. The session was moderated by UNFPA Youth Advisory Panel Members, Zanele Mabaso and Bhongo Sonti, who guided the discussions very well.
Panel member, Professor Morne Oosthuizen, a Deputy Director in the Development Policy Research Unit of the University of Cape Town provided an in-depth analysis of the population trends in South Africa and opportunities for maximising on the youth bulge. He emphasised that when investing in the demographic dividend we must consider issues of fertility, jobs, skills, gender & health and stressed that if we do not create a youth bulge that later turns into a working age bulge, there isn't going to be a demographic dividend to talk about. Interestingly, these key ingredients came up at the pre- youth conference consultation, which was organised by UNFPA on 6th June 2017 to prepare and sensitise approximately 70 young people on the issue of the demographic dividend. Following a series of robust and interactive discussions, the young people at the consultation indicated that in addition to focussing on the health and education of young people, there is a need to manage fertility as part of the economic development imperatives.
Reinforcing the notion of education being key to development, the Honourable MEC of Health in Kwa Zulu-Natal, Dr Sibongiseni Dhlomo, noted that when you "educate a woman, you'll see the economy booming". He further suggested that education is critical for addressing the needs of young people, particularly young women, and pointed out the urgent need to focus on increasing their choices and opportunities. Improving the quality, relevance and inclusiveness of education, and building on successful experiences in vocational education that emphasize life skills and livelihoods are critical for both women and young people. Adding his voice as a panel member and in agreement with the MEC's argument, Dr Ramneek Ahluwalia, HEAIDS Country Director & Head stressed that "young people need a vision to see an educated South Africa, where educated youth support and create employment opportunities for themselves and others".
Dr Dhlomo further pointed out how government is prioritising the health needs of young people in the province, and that their Sexual Reproductive Health needs have been prioritised as an area of focus. It is key to harnessing demographic dividend. The Human Papilloma Virus (HPV) vaccine, for instance, has been made available for all girls from the age of 9 years in school, before sexual debut, in the province. They have also deliberately  focused on  health promotion and education for  the young adolescent girl, as they have the potential to grow into empowered women, who can make informed decisions,  to become successful  and influential in society.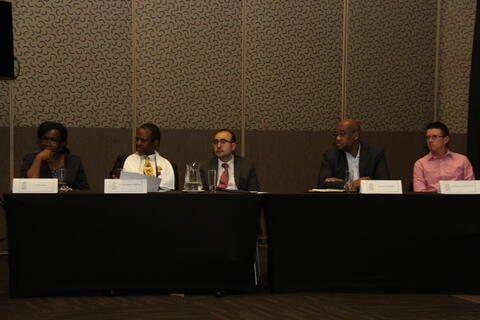 In responding to how the country has prepared itself to reap the demographic dividend, Dr Wiseman Magasela, Special Advisor to Minister of Social Development, re-iterated that the department has identified that the youth bulge needs to be invested in, as will be great economic rewards for South Africa. He emphasised that human development and economic development go hand in hand which is why the department of social development policies set a clear mandate of investing in young people's abilities to have an impact in society. The challenge that lies ahead is that currently, too few South Africans are in paid work. This is in most part due to the fact that the current curricula in our education system does not always produce youth skilled enough to be engaged and be economically productive. He indicated that the department has therefore placed great importance on early childhood development; by providing social welfare, and having a policy that focuses on ensuring the holistic development of our children. "We have development and design programmes that focus on closing the skills gaps and dealing with out of work youth. These are the Expanded Public Works Programmes (EPWP), one of government's key programmes aimed at providing poverty and income relief through temporary work for the unemployed and collaboration with Land & Rural Reform department to boost the number of youth active in the agricultural sector", he stated.
Highlighting challenges for active and productive participation of young people in the social, economic and political space in their communities and their country, he mentioned that the department is employing non- labour market- based interventions for young people to address the issue of unemployment, as this challenge can't be addressed in the conventional way.
In wrapping up the session Dr. Esther Muia, UNFPA Representative provided a concise summary of prospects and opportunities for harnessing demographic dividend in South Africa. She welcomed the MEC's proposal that the partnership between UNFPA and the provincial government department be deepened and for the conversation to be continued to bring change for young people!