Uthukela District, Kwa-Zulu Natal- The onset of the coronavirus has made it evidently clear that nurses and midwives play a central role in the provision of quality maternal and new-born care within the continuum of care. With many national health systems overwhelmed by the COVID-19 pandemic, midwives are demonstrating courage and resilience as they support women and new-borns in the toughest of circumstances.
In Uthukela, a UNFPA priority district with a total population estimated at 706,589, people are spread unevenly among seventy- four (74) wards and health district maternity wards continue to be busy even during the national lockdown period, which was intended to restrict movement of people and slow the pace of COVID-19 infections.
The first case of the corona virus in South Africa was confirmed on 5 March 2020 and the national lockdown was enforced on 26 March 2020. Throughout this time, women have been falling pregnant and babies being born, illustrating that childbirth doesn't stop for pandemics, and neither do midwives, as observed by UNFPA Executive Director, Dr. Natalia Kanem in her statement on the 2020 International Day of the Midwife.
Midwives in Uthukela district, from Ladysmith Provincial Hospital, Escourt Provincial Hospital, Emmaus Hospital to Injasuthi clinic have been working round the clock, working tirelessly as they believe they should be available and easily accessible to families in communities where they live.  
"On an average month Uthukela alone has approximately 900 births occurrences per month, which is why now we have been preparing our health facilities to deal with an influx of pregnant women during this period, "said Ms. Thobekile Mpembe, the District Clinical Specialist at Uthukela district.
Safe pregnancies and childbirth depend on functioning and accessible health systems and strict adherence to infection prevention control measures.
During the lockdown period, the South African government has undertaken efforts to maintain continuity of service delivery, with services related to reproductive health, including care during pregnancy and childbirth receiving high priority service.
The health facilities supported by UNFPA have been prepared and are ready to isolate medium and high risks pregnant women, but the need exists as not all facilities in the district have isolation rooms within the maternity departments, due to infrastructure constraints.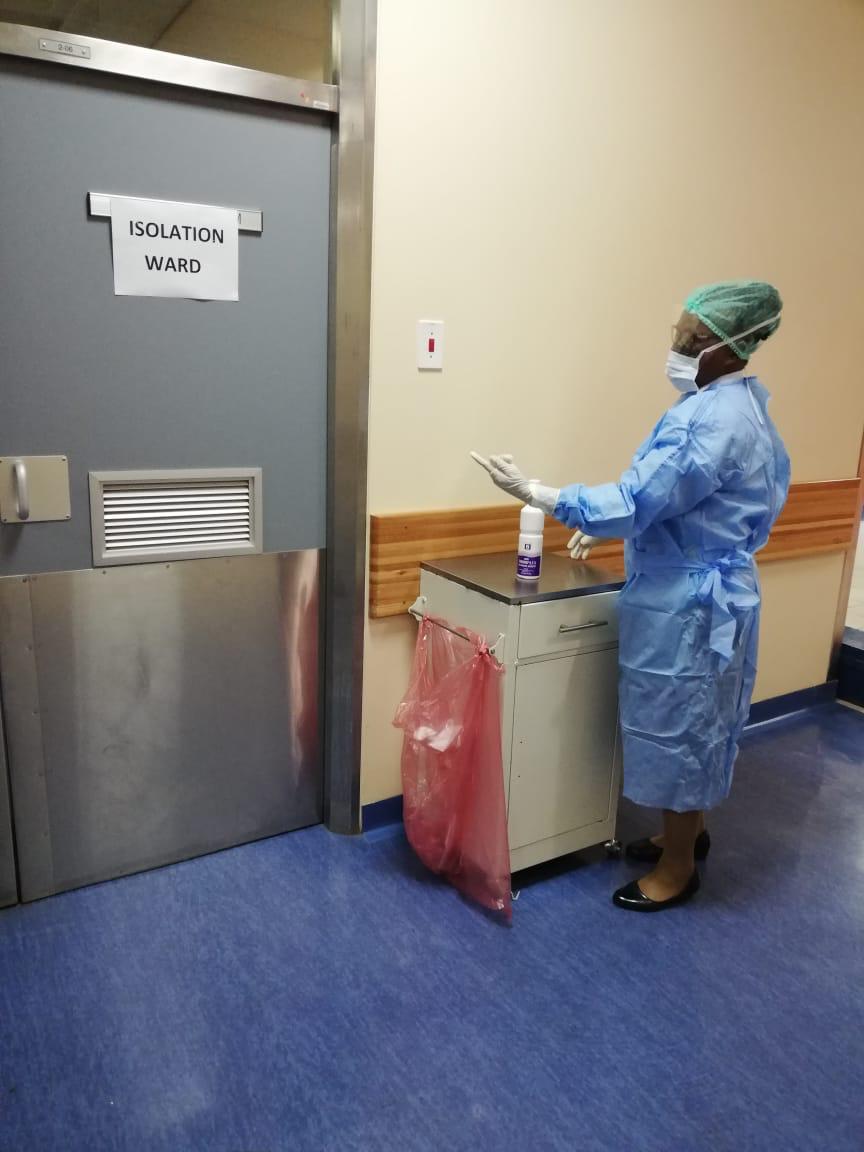 The staff at primary care level facilities in the district have all been provided basic Personal Protective Equipment (PPE) such as masks, gloves, sanitizers etc. and providers and managers at primary health centres in and around Uthukela are supported to maintain routine ANC and delivery care.
"It is still unknown if COVID-19 affects pregnant women more severely, but particularly during this period, we screen pregnant women who might have respiratory symptoms on entry and refer them to appropriate places," observed
Sufficient numbers of well-trained competent nurses and midwives is considered a key driving force towards effective and efficient maternal and neonatal services. During this COVID- 19 period, capacity constraints have often resulted in the deployment of nurses not trained in midwifery and not within area of midwifery to care for the women.
"One of the biggest challenges is that there aren't enough midwives to care for pregnant women in isolation areas, and there is a need for more midwives to take care of women in isolation areas. I think it's important therefore that as frontline workers we are adequately capacitated and well-resourced to care for the women where and when they need us most. It is also critical that we go out there into our communities and do preventative work and help reduce the spread of this pandemic." Ms. Mpembe further observed.
UNFPA is supporting widespread advocacy to ensure the safety of midwives and the women they serve, including advocating for higher investments in midwifery around the creation of an enabling environment for nurses and midwives particularly. There is a need to strengthen midwifery services as an integral component of a strategy for effective and sustainable mortality reduction, for both mothers and new-born infants, and this, cannot be over emphasised.