Each year, the United Nations Population Fund (UNFPA) collaborates with the South Africa Government through the Department of Social Development by organising a forward looking event to commemorate the World Population Day. As a global annual event though celebrated on 11 July, the South Africa Government took the commemoration to the people in the provinces. This year the Edendale Lay Ecumerical Centre in Pietermaritzburg was abuzz with excitement as UNFPA and the Department of Social Development commemorated the day on 03 October 2017. As part of the commemoration, the National Population Unit, Department of Social Development partnered with Siyakwazi Youth Network to host a Youth Camp, targeting 500 youth from all over Kwa-Zulu Natal who were then capacitated on issues of Sexual Reproductive Health and Rights.
In an exhilarating warm welcome, the Mayor of Msunduzi Local Municipality, Councillor Themba Njilo, indicated that he was excited that guests, who were made up of UNFPA official, National and Provincial Department of Social Development and district health officials, the media, 500 youth from KZN province, had honoured the invitation. The Acting DG of Social Development, Ms. Nelisiwe Vilakazi, eloquently stated the purpose of the day and reminded the young people  that, "Family Planning: Empowering People, Developing Nations", was an appropriate theme for this day given that 'family planning' is an important, life-saving intervention you can provide to a girl or a woman.
Reflecting on the findings of a research report into the Factors Associated with Teenage Pregnancy in the province, Reverend Msindisi Mbalo of the Provincial Population Unit, stressed the importance of creating an enabling environment that supports adolescents rights and responsibilities towards access and utilization of services that promote their sexual and reproductive health and rights, thereby encouraging the delay of early sexual debut and consequent teenage pregnancies.
In his message of support, the UNFPA Officer-In - Charge, Mr Barnabas Yisa, acknowledged the leadership role of the South African government in promoting sexual reproductive and health rights, women's empowerment and advancing the ICPD agenda. He further applauded the government for taking strong action in addressing challenges facing young people, girls in particular, and its commitment to focus on adolescents and youth, women and girls. He ended his address by assuring the Minister "that UNFPA will continue to walk with the South Africa Government on this path towards making access to family planning a reality for every woman and girl".
In a thunderous applaud from the young people, the MEC of Social Development in KZN, Mrs Weziwe Thusi, addressed the youth with emphasise on the importance of them seeking information and advice on issues of family planning. She further suggested that while the education sector is investing considerable resources in the empowerment and well-being of young people, however, they must also "come to the party" and must make conscious decisions about their sexual reproductive health lives. The MEC's inspiring remarks ushered in the Honourable Minister of Social Development, Mrs Bathabile Dlamini, who gave heart-warming and passionate key note address that set the tone for the commemoration. She reminded everyone to consider the practical ways of optimising on the youth bulge and the necessary investments needed to reap the demographic dividend, including through access to health care, quality education, employment and business opportunities for young people.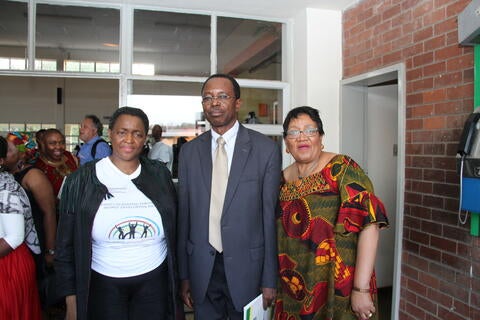 Focusing attention on the urgency and importance of investing in family planning, she noted:
"Access to safe, voluntary sexual and reproductive health services, including family planning, is central to gender equality and women's empowerment, and is a key factor in reducing poverty. Investments in family planning thus create a reinforcing cycle of empowerment, supporting healthy, educated and economically productive women and families."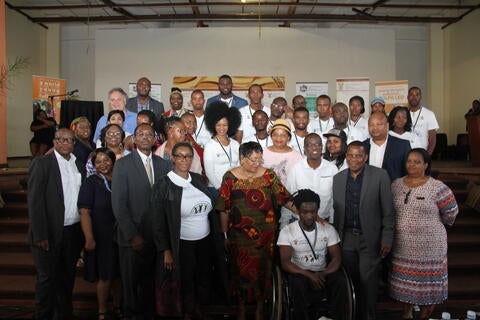 She further appealed to young people to define their own destiny, have set of priorities and goals to advance their lives and to seek family planning services so that their education is not disrupted!! In an interactive process the young people engaged with the Minister of Social Development on pertinent issues that affect them.
The successful commemoration of WPD and Youth Camp this year not only sought to raise awareness on issues that affect vulnerable groups but also to develop their competencies and self-esteem, by focussing attention on promoting healthy habits, ensuring education and employment information and opportunities, and access to reproductive health services.