On the final day of the visit to South Africa, the UNFPA Executive Director, Dr. Natalia Kanem and the UN Envoy on Youth, Ms. Jayathma Wickramanayake, took part in an Inter-Generational Dialogue at the 8th African Conference on Sexual Health and Rights. Mama Graça Machél, from the Graça Machél Trust and the Youth Envoy joined Dr. Kanem in a conversation with young people attending the conference.
The Inter-Generational Dialogue included a panel of three young people and three adults. These included two African Union Commission and Youth Advisory Panel members, one GNP Member, Ms. Jayathma Wickramanayake, Mama Graça Machél and Dr. Natalia Kanem. Panellists spoke about issues important to them, underscoring education, health, capacity building, employment and leadership as critical to harnessing the potential of Africa's bulging youth population.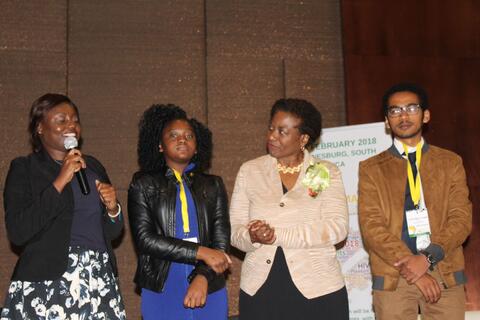 With the 8th African Conference on Sexual Health and Rights carrying a message of empowering young girls and women, UNFPA's Executive Director invited panellists to give their 10 year old selves advise. This was largely to note broadly the need to invest in the 10 year old girl today, who in 2030 will be a young adult and if investments in their sexual and reproductive health and rights, protection, education and skills building is not done now, would be unable to fulfil their potentials. The underlying message from the panellists, including the Youth Envoy, was for girls to believe in themselves, have confidence in their voices, demand a place at the table, take leadership, do not accept being bullied, make positive health choices and stay in school.
In consolidating statements from the panellists, Dr. Kanem noted that UNFPA remains committed to working with and serving the 1.8 billion strong youth population in the world, recognising the late Prof. Osotimehin Babatunde (former UNFPA Executive Director) as greatly contributing to this focus. She further underlined the need to build stronger alliances towards delivering on the 2030 Agenda on Sustainable Development, particularly on the sustainable development goals (SDGs) with a leaning on gender equality and women empowerment, such as goal 5, target 5.3 calling for the elimination of harmful practices such as child marriage and female genital mutilation.
Mama Graça Machél challenged young people to have more coordinated engagement and voices, noting that adults already have and are organised, and will largely continue to speak for and determine the narrative for young people. In addressing harmful traditional practices, she encouraged talking in smaller groups with opinion and traditional leaders, to impress upon them the need to change with clear data and evidence, as this has garnered positive results in other countries.