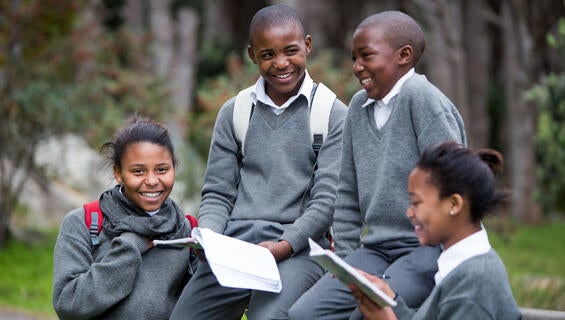 Background
South Africa's population is largely made up of young people; those who are below the age of 35 years constitute about 66% per cent of the total population. With over 54 million South Africans, 18.5 per cent are between the ages 10-19; and 24 per cent are aged 15-24 (StatSA, Mid-year population estimate).
Background
South Africa's population is largely made up of young people; those who are below the age of 35 years constitute about 66% per cent of the total population. With over 54 million South Africans, 18.5 per cent are between the ages 10-19; and 24 per cent are aged 15-24 (StatSA, Mid-year population estimate).
South Africa's National Youth Policy (2009-2014) defines youth as persons from 15-34 years old. The policy is geared towards prioritising the needs of young people with respect to education, health and well-being, economic participation and social cohesion. As a big part of the population, young people are at the heart of the future of South Africa. While South Africa's history was driven by young people through the Soweto uprising in 1976, more recently young people are facing many challenges in modern day society.
There is great benefit in investing in young people by creating pathways for accelerated development. When young people can claim their right to health, education and decent working conditions, they become a powerful force for economic development and positive change.
Situational Analysis – South Africa (including key figures, relevant policies)
Overall 42 per cent of young people are between the ages of 14 and 35 and the gender difference is not substantial. Over two thirds of the young population (69.3 per cent) reside in four provinces (EC, KZN, Gauteng and Limpopo). The living conditions of South African youth in certain aspects have improved since 2005. Improvements include access to formal housing, potable water, proper sanitation, electricity and communication platforms such as access to information and communication technologies. Young people in South Africa are highly technological with 88.1 per cent of those aged 15-34 living in dwellings with access to landline, cellular phone or internet access. Taking note of these improvements, South African youth still face significant challenges such as high unemployment rates, high HIV infection rates and an increase in youth headed households for the ages 15-24.
In South Africa secondary school Gross Enrolment (GER) is high at over 90 per cent. However, 2 million young people aged between 19-24 years are neither employed nor in an educational institution. This is significant because completing secondary schooling is shown to have a protective effect against HIV, especially for young girls. In addition, men and women with tertiary education are significantly less likely to be HIV-positive than those without tertiary education. Unemployment has been named as one of the biggest problems in South Africa. 45.4 per cent of males and 55 per cent of females in the 15-24 year age group are unemployed.
HIV prevalence is twice as high amongst young women as amongst young men between the ages of 15 and 24 years and females are four times more likely to have HIV than males of the same age. This age group has therefore been identified as a key population. On average, young women become HIV-positive about five years earlier than males. The 2009 HIV prevalence in the adult population (aged 15–49) was estimated to be 17.8 per cent. Young people in South Africa also encounter high levels of gender based violence. They also face barriers in accessing HIV prevention, treatment, care and support services due to limited decision-making power, lack of control over financial resources, restricted mobility, and care responsibilities.
Teenage fertility is reported to be on the decline although these estimates are still high. Stats SA Community Survey (2007) reflects that teenage fertility has declined by 10 per cent between 1996 (78 per 1000); 2001 (65 per 1000) and (54 per 1000) in 2007. The South African Youth Context report released in 2011 asserts that 9.5 per cent male and 6 per cent female high school learners reported ever having had an abortion or a partner who had had an abortion. Only 48 per cent of these learners reported using legal health services.
Reliable data on youth with disabilities remains a challenge. Based on the available data, persons with disabilities comprise 3 per cent of the population aged between 10 and 19. For the ages 20-29 and 30-39 this figure is 3.5 per cent and .419 per cent respectively.
Key Challenges:
Decline in knowledge levels across all age groups, within the youth category only 30 per cent of male youth (aged 15-24 years) and 27 per cent of females of the same age group could correctly identify ways to prevent sexual transmission of HIV and reject major misconceptions about HIV transmission.
The most recent ANC sero surveillance record high rates of positivity in pregnant adolescents aged 15-19 (13.7 per cent nationally) and 9 per cent in adolescents aged 10-14.
The South African Youth Context report (2011) shows that 10 per cent of female learners reported being forced to have sex; and reported slightly higher rates of being victims of partner violence and sexually-coercive behaviour than male learners (Youth Risk Behaviour Survey, 2008).
Over 45 thousand female learners fell pregnant in 2009, with teenage pregnancy representing one of the leading causes of early school drop outs (after economic reasons). Despite the progressive legislation in SA allowing young women to return to school post-pregnancy, only around a third seem to actually re-enter the schooling system.
Youth unemployment in South Africa is extremely high. Nearly 70 per cent of youth in South Africa are unemployed and the percentage of youth owned businesses remains low at 33 per cent.
There is a need to strengthen the development of strategic information to effectively address educational and health developmental outcomes of young people living with disabilities including access to comprehensive sexual reproductive health services.
Key Opportunities:
The enabling environment through national health and related policy guidelines to promote youth health and well-being. These are conducive and ensure young people have access to comprehensive affordable health services.
Capitalise on young people's high access to social media platforms and scale up evidence-informed combination prevention efforts utilising social media platform to increase reach of out of school youth who are increasingly vulnerable to new infections.
The implementation of the Integrated School Health Programme (ISHP) has created a collaborative platform between the education and health sectors to increase provision of accessible youth friendly health services directly and through linkages to appropriate community services.
UNFPA Responses
UNFPA is committed to finding innovative ways to work with young people and all key national stakeholders to implement policies and programmes to secure the health, development and human rights of adolescents and youth. UNFPA Strategy on Adolescents and Youth is structured around five areas namely; evidence-based advocacy for comprehensive policies and programmes; promotion of comprehensive sexuality education; building capacity for SRH service delivery; initiatives to reach marginalised and disadvantaged adolescents and youth, especially girls and promoting youth leadership and participation. Through this strategy, UNFPA targets investments on those most marginalised, inspire innovative approaches and works in equal partnership with young people and youth-led organisations such as the National Youth Development Agency, the Youth Sector within the South African National AIDS Council, Development Partners and civil society sectors.
In 2014 UNFPA, In 2014 the Country Office beganthe implementation of the first 3 years of a 6 year two-phased regional initiative programme entitled "Safeguard Young People in Southern Africa". The programme, funded by the Swiss Development Cooperation, contributes to improved sexual and reproductive health status of young people aged 10-24, with a special focus on HIV prevention. Some of the activities include capacity building for health service providers and national partners on Adolescent and Youth Friendly Services(AYFS), the provision of support to strengthen youth-led civil society organizations and youth leadership to advocate for access to sexual and reproductive health rights, among many others.
As a part of the youth activities, UNFPA has a youth constituency body, the Youth Advisory Panel (YAP) composed of 11 young people (20 -26) from different provinces in South Africa and representing key popolation in the society. The YAP members advise UNFPA on the programming and planing of UNFPA's actvities as well as taking forward the youth agenda in national and international foras, advocating for the youth to be central in the development agenda.
References
2012-2016, National Strategic Plan,
2011, Know your Epidemic – Know your Response – Summary Report
2011 National Youth Development Agency - Youth Context Report
2011, Confronting Youth unemployment: Policy options for South Africa – discussion paper, National Treasury
For PDF version, please click below