Planning is easy but plans mean nothing without implementation! This was the message that approximately 50 government officials, civil society partners and the United Nations Population Fund (UNFPA) took home from an intensive 1 ½ day planning and review meeting held 20-21 October 2015. The scenic coastal hamlet of Haga Haga was the setting for some serious grappling with issues around coordination of development assistance, prioritization of areas for intervention and roles and responsibilities for various stakeholders in advancing sexual and reproductive health and rights enabled by gender equality, population dynamics and effective use of evidence.
Outsiders sometimes view and speak of the Eastern Cape as being backward, a province where 'nothing is happening'. It was clear, however, from the reports by district and provincial officials, civil society and other partners that this is far from the truth. The three UNFPA- supported Districts (Alfred Nzo, Amathole, and O.R. Tambo) presented detailed implementation plans for addressing bottlenecks and achieving targets set for improving sexual and reproductive health (SRHR); and strengthening their use of data for improving performance through setting targets and monitoring.
In 2014, at a similar planning session, government had identified areas where UNFPA's comparative advantage in SRHR, adolescents and youth, gender equality and data for development could be utilized. UNFPA's support to government is of a technical nature, and areas were identified where technical assistance could complement ongoing initiatives and facilitate service delivery.
Some of these initiatives in the year include an assessment of obstetrical emergency response services and the development of an implementation plan; improving the capacity of health care providers in delivering quality integrated sexual and reproductive health services; and an assessment of the status of family planning uptake. The review of the status of implementation of these activities agreed that they were nearing completion and the expected recommendations are anticipated to provide valuable inputs into government's plans for 2016/2017.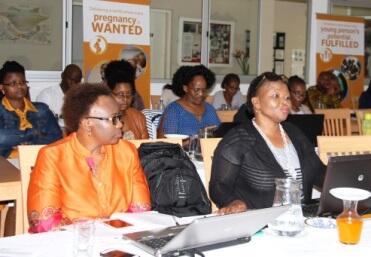 The 'planning' work for the Haga Haga team consisted of two main components. Firstly the team worked on identifying possible health facilities for the implementation of an innovative approach to improving young people's access to and utilization of quality health services, and improving the quality of these services based on the feedback by young people. This approach, a partnership between government, UNFPA and Lovelife, generated a great deal of excitement about the possibilities for improving the delivery of adolescents and youth-friendly health services (AYFS) which have hither-to been characterized by both strategic and operational bottlenecks.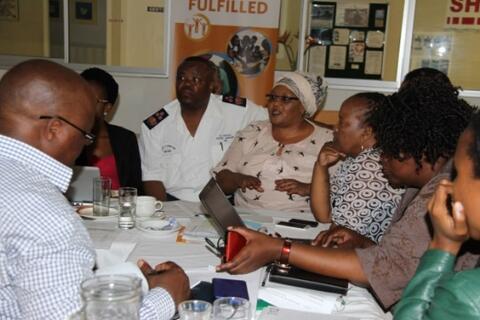 The second component involved an assessment of planned activities in District Health plans to identify particular areas where UNFPA and other partners could contribute technical support. There was general consensus that reducing teen pregnancy should be a particular priority, through strengthening youth friendly services and improving demand for use of contraception (family planning). A few strategic and concrete actions were proposed and as confirmed by the UNFPA Deputy Representative, Ms Navchaa Suren, these will be further refined through ongoing consultation with stakeholders over the next few weeks.
Earlier in day, Ms Nonkqubela Kula, Chief Director for Maternal, Neonatal, Child and Women's Health and Primary Health Care announced that the Department of Health would create a Deputy Director position to coordinate district support in Family Planning and Adolescents and Youth Health – a welcome development in the strategic cooperation between UNFPA and the Eastern Cape Provincial Department of Health.
Participating in the last leg of the deliberations and closing the meeting, the Deputy Director General (DDG) for clinical services in the Department of Health, Dr Patrick Maduna, underlined the significance of this workshop as a concrete manifestation of how departments (particularly Health and Social Development) and partners should be working together, but pointed out that this could be strengthened even further. He called for a sense of urgency as we plan for next year,
"Time is against us, there is no time to waste. It is easy to make plans, but hard to implement. As we leave here, the first thing to do is implement; secondly, we must implement; and thirdly – we need to implement! At the same time, reporting on impact is a must and if there is no report, it means no work is done."